Austin Board of Realtors has released the 2022 Central Texas International Homebuyers Report (see full repot at the bottom)
The world has taken notice of Central Texas, and it is a popular destination for international investors and homebuyers due to its resilient and diverse economy, high quality of life, and entrepreneurial and creative culture. Central Texas has become the go-to destination for significant technology hubs and innovative thinkers from around the globe.
As the real estate market becomes more globalized, there is an increasing demand for real estate agents familiar with the needs of international investors and foreign national home buyers. We continue to embrace innovation, technology, and data in the global real estate industry to meet this demand. This will allow us to serve our community better and continue to position ourselves as a leading destination for real estate investment. Viewing Central Texas real estate market trends through a global lens will give real estate agents a competitive edge in this growing market.
Both domestic and global companies are investing in retaining and expanding their regional footprint. At the same time, the region has seen a boom in residential construction as investors look to capitalize on the area's increasing population.
The 2022 Central Texas International Homebuyers Report respondents reported increased international transactions year over year, from 19% in 2021 to 41% in 2022. Respondents also reported an increase in transactions in a five-year lookback from 21% in 2021 to 49% in 2022. The dollar volume of foreign buyer purchases dipped slightly to $613M in 2022 from $634M in Central Texas 2021. The median home price of foreign buyers' purchases rose to $513,900 in 2021 in Central Texas, up from $428,100 in 2021 and $381,030 in 2022. Purchase prices by international buyers continue to remain above the Austin Metropolitan Statistical Area (MSA) of $500,000, which was reported during the same survey time period.
Of the eighteen-county area, 79% of the foreign buyers purchased in Travis County inside the City of Austin (23%), outside of the city of Austin (23%) to receive the largest share of foreign buyers totaling 46%. Williamson County had 33% of the foreign buyers in Central Texas, followed by Hays County, Bastrop, and Caldwell counties at 4%, 1%, and 1%, respectively.
Austin is a city that attracts a lot of foreign direct investment, so being able to help global clients navigate the Austin real estate market is a valuable skill.
EXECUTIVE SUMMARY
Global Real Estate and the Remote Worker
Remote working has many benefits, including the ability to live and work anywhere in the world. As remote working becomes more popular,Austin has been feeling the effects of both companies and people adopting the remote work life and choosing Austin as their destination.According to a recent Forbes study, remote workers are searching for locations with warm weather all year and reliable, high-speed internet.Austin and the surrounding community enjoy both-offering a sunny outdoor lifestyle and a technology and innovation hub throughout theregion matched by a few communities. During the survey period, the Austin Chamber of Commerce reported over 32,000 jobs created in theAustin region with leading sectors in information technology, business, and financial services, defense and security, telecommunications, andmanufacturing. A few companies that launched in Austin this past year include AnthemlQ, a commercial real estate search software, andCrowdsStreet, an online commercial real estate investment marketplace, with a cryptocurrency mining company, Blockcap, all headquarteredin Austin. This trend can also translate to an international lifestyle.
Global Recognition
International companies such as Dell Technologies, Whole Foods Market, and Vrbo are just some of the Austin-based companies with globaloperations. High-tech giants like Samsung and consumer-friendly brands like Disney are buying land and expanding into Central Texas. Inaddition, high-profile Silicon Valley companies, including Amazon, Google, Oracle, and Tesla, in some cases have moved their headquarters, andall have expanded their operations into Austin. First known as the "Live Music Capital of the World," Austin has gained global recognition for itsmany festivals and attractions, such as the South by Southwest (SXSW) Festival and the Austin City Limits Music Festival. The Central Texasregion is global in scope, with world-class education options. Students in the region have access to 29 public school districts, 27 charter schooldistricts, and over 100 private schools. In addition, the University of Texas and 26 other public and private universities and colleges provide anample supply of well-educated workers to area employers. Also, sports are adding to the regional spotlight with Austin FC, an Americanprofessional soccer club, and Formula One, the highest class of international racing for open-wheel single-seater formula racing cars sanctionedby the Fédération Internationale de l'Automobile (FIA) is getting Austin noticed on the international stage and reportedly contributed asignificant economic impact on the Austin area economies.
International Investment-Residential & Commercial
Ranked the top exporter in the U.S. since 2002, Texas exported a record $375 billion worth of goods in 2021 alone. Texas is a top globaldestination for foreign direct investment (FDI), with 33 foreign trade zones and more than 1,700 foreign corporations with ongoing operations inthe state—making our population one of the most diverse in the country. Texas ranked third and accounted for 8% of all international homepurchases in the U.S., behind Florida at 24% and California at 11%, according to the National Association of REALTORS® 2022 Profile ofInternational Transactions in U.S. Residential Real Estate.
According to the Austin Chamber of Commerce, Austin garners 12 percent of the state's foreign direct investment (FDI) and has nearly 300foreign-owned firms to its credit. Texas also ranks No. 2 in the U.S. for commercial real estate buyers working with REALTORS®, according to NAR''s 2022 Co! ercial Real Estate International Business Trends Report.
REPORT HIGHLIGHTS
$613 Million in Sales Dollar Volume
Foreign buyers purchased $613 million of residential properties, or 3% of total home sales dollar volume in Travis, Williamson, Hays, Bastrop, and Caldwell counties from April 2021-March 2022. This remained virtually flat from $634 million in 2021. The market still feels the effects of the COVID-19 pandemic from $800 million in 2020.
Top Four Countries of Origin for Foreign Buyers in Central Texas
From April 2021-March 2022, the top four countries of origin for foreign buyers in Central Texas were India (21%), Mexico (10%), China (6%), and Canada (4%). India jumped to the top in 2022, bumping Mexico, China, and Canada, each down one spot from 2021.
Median Purchase Price
Foreign buyers' median purchase price is $513,900, which is higher than the median sales price of foreign buyers nationally ($366,100) and the Austin-Round Rock MSA median price ($500,000) during the survey period.
Asia and the Americas
Central Texas remains a popular destination for homebuyers from Asia and the Americas. Foreign buyers from Asia/Oceania rose to 39% in 2022, up from 38% in 2021 and 29% in 2020. North and Latin America* dropped to 27% in 2022, from 32% in 2021 and 38% in 2020 of purchases in the Austin-Round Rock MSA.
International Destinations Targeted by Central Texas Residents
In 2022, respondents reported that clients searching abroad took a sharp downturn for Central Texas to 14% with a sharp focus on four countries Mexico (19%), China (8%), Costa Rica (6%), and India (5%). Other outbound countries that topped the list are Italy (3%), the United Kingdom (3%), Brazil (2%), Canada (2%), Cambodia (2%), Chile (2%), Germany (2%), Iran (2%), Saint Lucia (2%), and Turkey (2%).
International Investment Impact of the COVID-19 Pandemic
As the COVID-19 pandemic continued to challenge foreign travel, respondents saw a significant improvement from the 2021 Central Texas International Homebuyers survey, with 76% of respondents reporting COVID-19 has no impact on their client's ability to invest, while the clients who could not travel due to the travel ban dropped from 37% in 2021 to 14% in 2022 during the survey period. Respondents reported that the number of international transactions was up, the median price was up, and the overall international inbound market sales dollar volume was considered stable.
INTERNATIONAL INVESTMENT IMPACT
OF THE COVID-19 PANDEMIC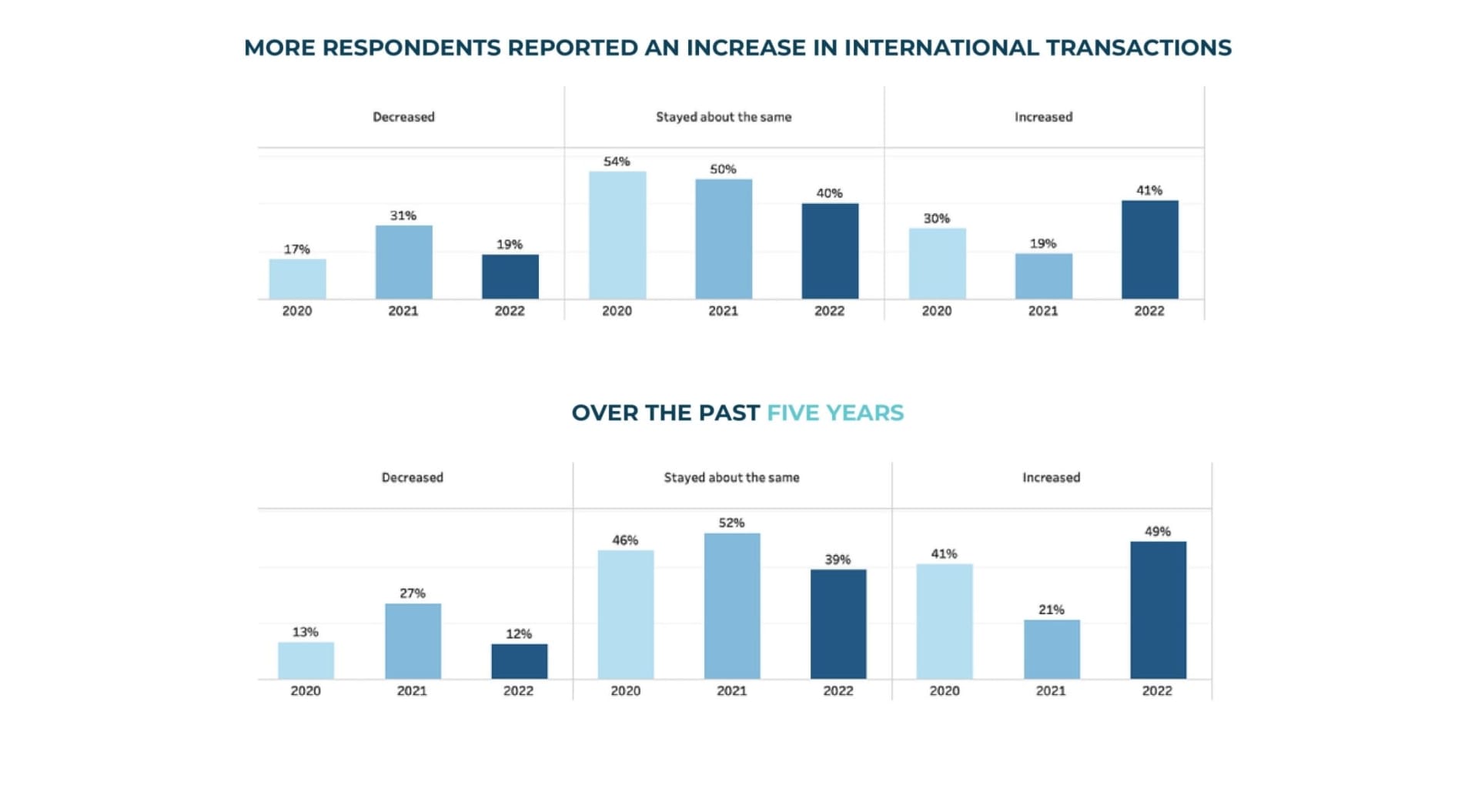 FOREIGN BUYER PURCHASES IN CENTRAL TEXAS